Seaside misspelled
Randomizer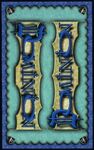 | | |
| --- | --- |
| Type | N/A |
| Effect | N/A |
| Cost | N/A |
| Set | All Sets |
| Illustration | Unknown Illustrator |
Randomizer Cards are cards with different backs (blue instead of gray) to normal cards. Their official uses are to mark empty supply piles and make into a deck which you shuffle to get 10 Random Kingdom Cards. Other common uses include using them for a Black Market Deck. All games so far have a Randomizer for every Kingdom card, in addition the Base Game has Randomizers for the Basic Cards and Seaside has a Randomizer for the Blank Cards.
Ad blocker interference detected!
Wikia is a free-to-use site that makes money from advertising. We have a modified experience for viewers using ad blockers

Wikia is not accessible if you've made further modifications. Remove the custom ad blocker rule(s) and the page will load as expected.